The West Molesey Centre is committed to providing nutritious and healthy school meals for our children. We have a wide range of options and something to suit all tastes making lunchtime tasty, enjoyable and great value for money.
For more information please use the links below which cover our menu cycle, how parents can order meals online and a bit about how our meals are freshly made every day for us.
Menus for Week 1, Week 2 and Week 3
Information for parents on online meal ordering

This is Michelle Saunders who kindly prepares and delivers our meals for us every day.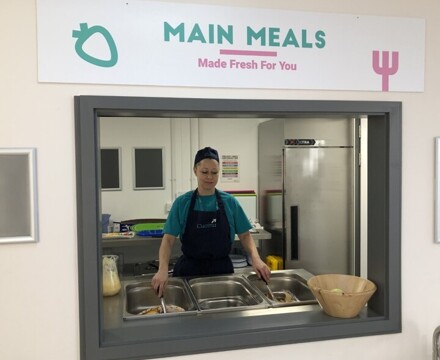 ''I currently work at Teddington School. I am a mum to two children who are both grown up now.
Part of my role is to prepare and bring over the lunches for The West Molesey students and I absolutely love this part of my day. I have got to know each student really well and I love the energy that the centre has. Students and staff are polite, caring and fun and its great to be part of the team.''
Michelle Saunders
Cucina Catering, Teddington School