15th March - 1st April
This page contains sections with all the information you need to know! Click on the links to view, download and print:
COVID-19 Safety Precautions and Risk Assessment
We take the health and safety of everyone in The Matthew Arnold School Community very seriously. This is even more important during the current COVID pandemic. That the school has seen so few confirmed COVID cases in comparison with others is testament to the precautions we took and the relentless way we monitored them and each other. I have every intention of raising that standard even further, enabled by the brand-new facilities and the backing of staff, students, parents and cleaners.
Nobody should come to school if they display any of the common signs of COVID:
A raised temperature
A new, persistent cough
A loss of, or change in, the sense of tast or smell (anosmia)
If they do, they must remain at home and follow government procedures.
We will be asking everyone to
Take a home LFD test twice a week (provided through the school)
Wear a face covering at all times indoors unless they are eating
Sanitise their hands on entry to and exit from the buidling and separate rooms
Wash hands frequently (including every time they have been to the toilet) using soap and water for 20 seconds
Maintain distance where at all possible
Show good hygiene standards (catch-it, kill-it, bin-it)
The risk assessment gives you the full details:
Risk Assessment V3 full reopening 15th March
Parents may also be interested to know the procedure following a confirmed case of COVID in the school community:
Wellbeing
Wellbeing remains a priority for the school community and all its members - students, staff, parents, governors and visitors.
We have maintained our weekly wellbeing session, and have increased tutor time to 30 minutes daily, scheduled to 'top and tail' the school day.
You already know that our pastoral system works well because of the way teams work together. All students have access to:
Their Form tutor
Their Head of Year
The SENDCo and TA team
The Safeguarding Team
Clare Sampson and East to West
Medical Officers and First-Aid trained colleagues
Timetables and times of the school day
Year group timetables can be viewed, downloaded and printed here:
Individual student timetables can be viewed on the Parent Portal.
This above document does include times of the school day, but these can also be viewed, downloaded and printed here:
Break and lunch
Break time is 20 minutes long and is at the same time for all students: 10.30-10.50am.
The link below shows the areas for each year group when they are outside. Apologies - the colour coding is not quite the same as on other documents. Use the key and we will update asap!
There are two different lunchtimes:
Year 7 & 8: 12.20-13.05
Year 9, 10 & 11: 13.05-13.50
The link below shows you the menu for the next three weeks. Food is paid for at the till and does not need to be pre-ordered:
Catering
We are returning to a fuller choice, with payment at the tills rather than pre-ordered in tutor time. There will be monitored sanitisation before and after the tills.
We cannot currently offer food at first break. Students should bring a snack to get them through until lunchtime.
There are mains-connected water fountains for each year group. These are for container fill only.
The menu is show below:
Extended Curriculum
The extended curriculum is very much a part of the school now. It covers our commitment to the individual beyond the purely academic, and covers physical, emotional and mental health as well. It incorporates the following strengths of the school and builds on the lessons we learned during lockdown:
Wellbeing
The Reading Hour
Why Don't You ... ?
The SuperCurriculum
Independent Learning
Careers
In addition to timetabled sessions, teachers will build opportunities and links to many of the above within the academic curriculum.
Extra-curricular activities
This section will be updated once we return to an extra-currlcular offer. We are currently putting this on hold until after Easter, when we will have seen how successful the return to school has been nationally.
Toilets
The toilet facilities are extremely pleasant - well designed, hygienic and easy to monitor. Whilst zones remain, we are allocating a block to each year group, with a minimum of three cubicles for girls and three for boys. All cubicles have floor to ceiling doors and wall partitions.
The handwashing facilities are open plan, and there are reminders about how to wash hands thoroughly above each tap. Members of staff will be on duty next to each set of facilities during all breaks, meaning that clean hands will be inescapable!
There are also accessible toilets at various places around the school. Parents of students with particular requirements should contact their child's head of year.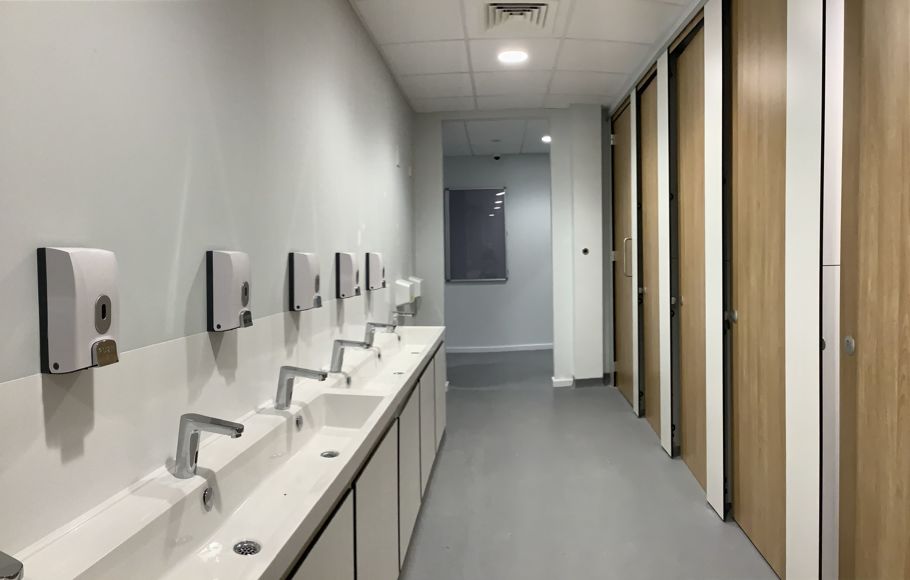 Maps of the school and the one-way system
We appreciate that there is a lot to learn - not only a new building, but new room numbers and a one-way system as well!
The one-way system will make 'traffic' flow around the school much faster, smoother and calmer, and during COVID precautions will enable students to use specialist classrooms.
The one-way system is professionally and clearly signposted. Please follow the link below to view, download and print the document shwoing how the school is set out:
School map with one-way system