Careers at The Matthew Arnold School
The aim of our careers programme is to prepare our students for the next steps in their careers. We have developed a well-structured Careers programme for all students in Year 7 to 11. During their five years students will be equipped with the skills and qualifications needed to reach their full potential, and enable them to achieve a fulfilling and happy career.
Our strong relationships with local Further Education providers and access to local employers enable students to plan their next steps. We also work in partnership with Innervate Career Services, an outside agency. They provide one-to-one impartial Career Guidance interviews to Year 10 and 11 students,
Careers outline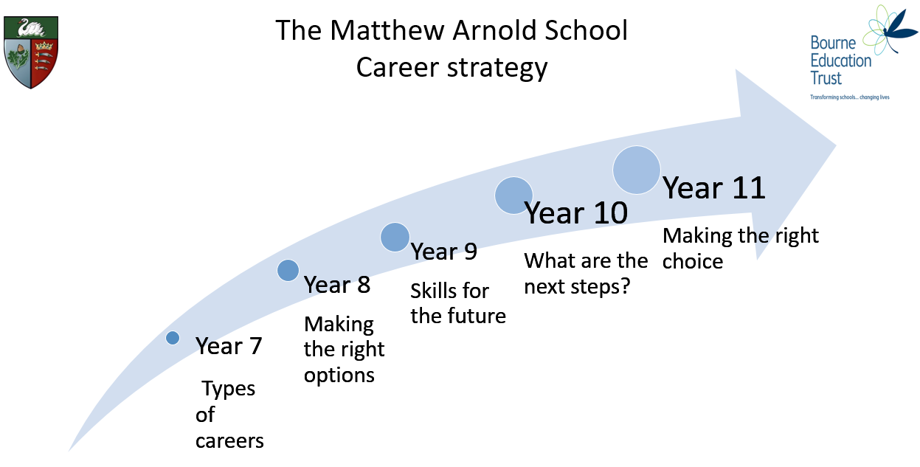 Students
During your time at Matthew Arnold you will
Develop key workplace skills
Gain independent careers advice from a careers advisor
Interact with Further education providers
Prepare a CV
Parents and carers
We understand that you will want to offer your child assistance during the process. To enable this we will
Allow access to our annual careers fair
Invite Further education providers to Parents evenings
Share local market information
Links:
https://nationalcareers.service.gov.uk/
http://www.apprenticeshipguide.co.uk/
https://www.gov.uk/apply-apprenticeship
https://www.lmiforall.org.uk/interested-in-the-lm-and-want-lmi/
Employers
As part of our careers provision we want to give our students the widest view of workplaces. If you could assist us in any of the following please email Graeme Watts; gwatts@matthew-arnold.surrey.sch.uk
Site visits for a small group of students
Interview preparation
Careers fair
Skills workshops
Careers Newsletters
Please enjoy reading the latest news in our careers newsletters which will be uploaded each term.