GCSE performance 2020
Formal GCSE examinations were not taken this year because of the the COVID-19 pandemic. Instead, schools were asked to provide 'centre-assessed' grades, using a range of criteria and data available to them. This was done scrupulously and with complete integrity, and went through robust moderation at all levels, including that of the Bourne Education Trust.
No performance tables were released this year, but The Matthew Arnold School is delighted nonetheless with the results awarded to its 2019-2020 year 11 cohort, and is confident that all grades awarded were fair and as true an assessment as possible of the picture had exams been taken.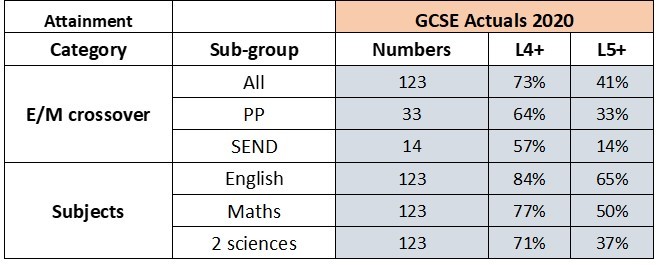 We are very pleased for all our students, who worked extremely hard, and put up with disappointment and adverse circumstances with fortitude. We wish them all the very best for the future. Of particular mention are:
Highest progress
Neve Crossley, Maddison Denny, Charlotte Enderby and Ollie Keefe
Highest achievement
Tom Appleby, Neve Crossley, Emma Thorne and Megan White